Coventry celebrates motor industry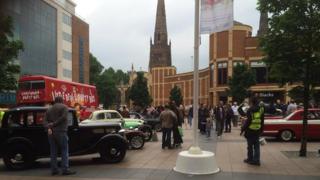 Thousands of people have turned out for a celebration of Coventry's motor industry heritage.
The organisers said the three-day MotoFest also aimed to get people "excited about the city again".
It included a parade of cars around the ring road, which was closed off for the event, and more than 150 vehicles were estimated to be on display.
Festival director James Noble described Coventry as the "spiritual home of the motor industry in the UK".
He came up with the idea of MotoFest to celebrate that history but wanted to make it different from other shows by basing it around the city centre.
The event started on Friday and involved static displays, a live music stage, film shows and displays of racing vehicles on an oval track in Cox Street Car Park.
The parade around the ring road was organised to celebrate the 40th anniversary of its opening and the organisers said they would like to hold races on it next year.
The Department for Transport said it was consulting on plans to allow motor sport events on public roads.