Jeans close a platform at Coventry railway station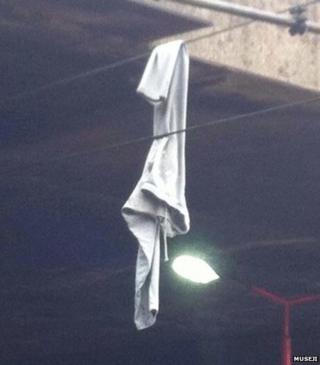 Trains in and out of Coventry railway station have been stopped by a pair of jeans hanging on overhead lines.
Virgin Trains, said one platform was closed for over an hour and ten trains had to be re-routed to other parts of the station.
The rail operator said there was a risk the jeans could catch fire or get tangled in the overhead.
It is not known how many passengers were affected, but most were travelling on services into Birmingham.
Jane Cotton, Virgin's Team Leader at the station, tweeted about the holdups at 09:30 BST.
She said: "We've not seen any half naked people around so we're not sure how they got there."