Tollbar Island: Road works put 'jobs at stake' says MP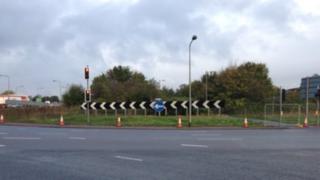 Delays caused by road works are putting jobs at stake and hampering investment in Coventry, a city MP has claimed.
The £110m redevelopment of Tollbar Island began in November but businesses say it is causing "lengthy" tailbacks.
Jim Cunningham, Labour MP for Coventry South, said he had raised the issue with Transport Secretary Patrick McLoughlin to see if anything could be done to help the businesses.
The Highways Agency said it was trying to minimise disruption.
'Lack of communication'
Kevin Turner, managing director of Bespoke Distribution Aviation, said: "Our main problem is the lack of communication.
"If we knew the lane closures and temporary traffic lights were coming, we could do something about it, but they just appear overnight and we have to react as and when.
"We are a 24-hour business and we have to meet our customers' demands. We are having to spend more money to get our goods delivered on time.
"It's great to see the road infrastructure being improved but the Highways Agency needs to understand the impact these delays having on business."
Mr Cunningham said: "I am getting lots of complaints from people caught in lengthy hold-ups at the island.
"I have raised it with the Secretary of State for Transport to see if he can have a word with the Highways Agency.
"Jobs are at stake and investment is at stake. We need to see if improvements can be made."
The Highways Agency said it was hoping to finish the work in autumn 2016.
Project manager Paul Nagra said: "If anybody has concerns, they can get in touch with us. We are trying to keep disruption to a minimum but there are always ways to improve things."