Thousands of tarantulas take part in 'spider Crufts'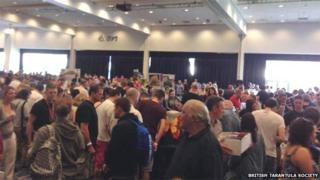 More than 50,000 tarantulas have taken part in an event that has become known as the "Crufts of the spider world".
Organised by the British Tarantula Society, this year's competition was held at Coventry's Ricoh Arena.
It featured a number of categories, including Best New World Species and Best in Show, and attracted about 2,000 visitors.
Organiser Ray Hale said the event brought "all the main arachnologists from around the world under one roof" .
He described the event as a "great success" and that the society planned to return to the Ricoh Arena next year.
"What's more we've had no escapes, so Coventry can sleep easy," he added.
Mr Hale told BBC 5 live earlier that while the event started as a "bit of fun" 29 years ago, it had grown and become a serious competition.
With more than 800 different types of tarantula, he said there were a number of criteria that judges looked for, including how healthy the specimen was and whether the colours were right for that species.
Mr Hale, who originally comes from Birmingham, keeps about 200 tarantulas at his home in Sussex.
Scorpions and other creatures were also on show in Coventry, with experts and academics on hand to answer questions.