Car ploughs into front of Coventry house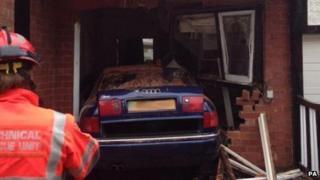 A family of four had a lucky escape when a car ploughed into their home, demolishing the front door and ending up in the hallway.
The car was embedded three-quarters of the way through the hall area after the crash in Earlsdon Avenue South, Coventry, on Saturday evening.
A woman passenger was taken to hospital but the man driving was not hurt.
The ambulance service said two adults and two children inside the house were "extremely fortunate" to escape injury.
A dog was also uninjured, but the Audi partially demolished the staircase in the crash, which happened at about 18:45 BST.
The passenger, believed to be aged 41, had to be freed from the wreck by firefighters before being taken to hospital with neck, pelvic and leg injuries.
The man driving the car was believed to be in his late 40s.
Specially-trained firefighters from West Midlands fire service's technical rescue unit towed the car out of the house and then worked to shore up the front of the building, using wooden joists.
The detached home was left with a 10ft (3m) hole where the front door used to be.
The circumstances of how the car came to end up crashing into the house are not known.