Coventry's Copsewood Grange and Lodge protected from demolition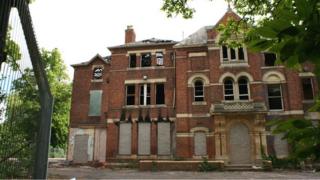 Coventry City Council has served a notice protecting two historical buildings in Coventry from being demolished.
An emergency protection notice was served by the council for Copsewood Grange and Copsewood Lodge in Binley.
Planning officials said the buildings were at risk of being knocked down.
Permission, granted in 2012, is still in place to convert the grange - a former manor house - into 17 flats, and the lodge into a single dwelling.
They were built in the 1872 and are examples of gothic revival architecture, the council's head of planning, Jim Newton, said.
The grange fell into disrepair, and campaign group for historic buildings, Save Britain's Heritage, added the property to its "at risk" list.
"We have worked with the developers over many years and have always been clear that we require the grange and lodge buildings to remain," said Mr Newton
"We believe they form an important heritage asset to the area and we know they are highly valued by local people."
The Article Four direction was served in person to the developer and copies have been put up on the site.
The developer has 28 days to appeal.