Furniture firm Vitsoe moves to former Ford site in Leamington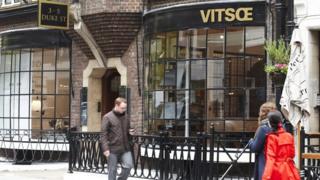 A furniture manufacturer is set to move its headquarters and production to Warwickshire, creating 30 jobs.
Vitsoe, currently based in Camden, in London, said it has bought land in Leamington Spa - the site of a former Ford foundry - and planned to build a production building and headquarters.
The Ford foundry closed in 2007, with the loss of 350 jobs.
Its buildings were demolished in 2011 after complaints the site had become an eyesore.
'Prominent location'
Vitsoe, which was founded in Germany in 1959, moved its headquarters to the UK in 1995. It has shops in New York, Tokyo and London.
A representative said it was "rapidly outgrowing" its site in Camden and said the position of the 3.3 acre Warwickshire site was "ideal".
"It's in the middle of our suppliers and in a region known for manufacturing that should provide a great workforce," he said. "It's perfect."
The production building would be used to build, assemble and dispatch components, as well as function as Vitsoe's headquarters.
The company said it hopes to submit a planning application in the summer, with a potential 2015 opening planned.