US Coventry City football fan fundraising for takeover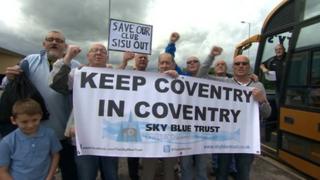 A Dallas-based businessman has launched an online fundraising campaign to help Coventry City Football Club return to the Ricoh Arena.
Coventry-born Martin Kelman runs an internet firm that gatherers small investors to meet funding targets.
He said the "sheer frustration" of fans gave him the idea to raise money to pay the stadium rent or to launch a takeover bid.
The club dismissed the idea and said it was not the way to do business.
Coventry have been playing their home fixtures in Northampton this season, since leaving the Ricoh Arena amid a rent row with stadium managers.
Mr Kelman said: "I've come back from the US and been to the last two games and I've seen the sheer frustration of the fans. This has to change.
"Coventry City Football Club is the heart and soul of the city and it needs to return back because otherwise we might lose a generation of Sky Blues fans who don't know what it's like to watch a football game in the city."
His idea is for fans to collectively pledge up to $5m (about £3m) to a crowd-funding website.
This money would be used to help negotiate a new rent deal for the club or to attempt a takeover.
Mark Labovitch, Coventry City Football Club's non-executive director, said: "It's not about the rent or the club needing help to pay rent.
"It's that no football club can ever survive financially in the long-term unless it owns its own stadium and gets the revenues from all the things that happen on a match day.
"Even if it was for sale, this wouldn't be the way to go about it."
Jan Mokryzcki, from supporters' group the Sky Blue Trust, said: "It does seem a bit of a scheme written on the back of a fag packet.
"They've had offers to move back to the Ricoh rent-free and for reduced rent and they've turned them all down."
The club has previously said it would like to build a new stadium.