'Spoiled fuel' caused plane to crash in Loxley near airfield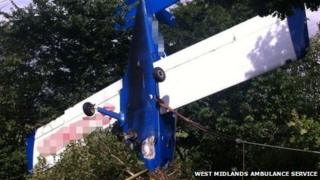 A plane which struck a fence and crashed into trees in Warwickshire probably lost engine power due to contaminated fuel, a report has said.
The Van RV-9A plane got into difficulties on 6 August, eventually ending up nose down in Loxley, a mile from Wellsbourne Mountford Airfield.
Pilot Alan Bray, then 59, from Rugby, escaped with just a grazed thumb.
An Air Accidents Investigation Branch report also highlighted "failed bolts" as a possible cause.
'Dense black colour'
But it said it was more likely this latter damage occurred when the plane hit a fence.
"The fuel was a dense black colour and there was a high percentage of water present: in the manufacturer's estimation, there was enough to cause the engine to stop," the report said.
Mr Bray - the only person in the two-seater plane - was trapped in the cockpit for 40 minutes, held in by his harness but was eventually freed by firefighters.
He was assessed by paramedics at the scene but did not require further treatment.