Sacked doctor 'was unfairly dismissed', tribunal rules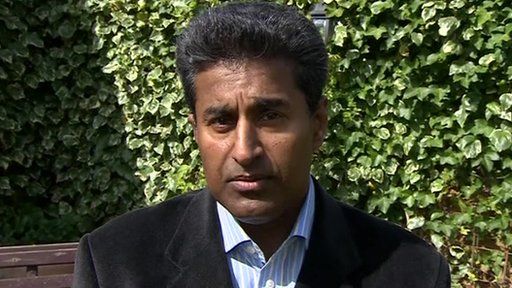 A heart specialist was unfairly sacked after raising concerns about patient safety, a tribunal has ruled.
Dr Raj Mattu was dismissed by University Hospital of Coventry and Warwickshire NHS Trust in 2010.
In 2001, he exposed the cases of two patients who had died in crowded bays at Walsgrave Hospital in Coventry.
Dr Mattu said he was "absolutely relieved" at the ruling. The trust said it was disappointed and would examine the ruling for grounds to appeal.
Whistle-blowers 'discouraged'
Employment Judge Pauline Hughes ruled the consultant "did not cause or contribute to his dismissal" and had been subject to "many detriments" by the trust as a consequence of being a whistle-blower.
His allegations had been "serious" and "attracted a great deal of media coverage and public interest", she said.
She also ruled that the surgeon had been treated "unfavourably" by the trust as a result of a disability.
But she dismissed Dr Mattu's claims of racial discrimination.
Dr Mattu told BBC Radio 4's Today programme that the trust had made false allegations against him as a "plausible alternative" for his dismissal - when the real reason had been his whistle-blowing.
"Scores of false allegations, some of them quite heinous, were put forward," he said.
"The saddest thing out of all of this for me is that the people who have lost out the most are the patients and the public because for 13 years the trust management have prevented me from looking after patients.
"They have also, in the way they have treated me, discouraged any further whistle-blowers in the NHS from coming forward and risking having their career and livelihood destroyed."
In a statement, the trust said it "needs to examine the Tribunal's decision in more detail (which runs to over 400 pages) to consider its grounds for appeal".
"However we are pleased that they have firmly rejected his primary claim that his dismissal in 2010 was in any way linked to whistle-blowing about patient care.
"As a Trust, we will continue to support all our staff to raise issues of concern in our effort to provide continuous improvement in our services to patients."
During the tribunal, Dr Mattu said his concerns about overcrowding on wards had been ignored.
He claimed a policy of allocating five patients to four-bed bays in December 1999 had prevented vital equipment being used to save the life of a 35-year-old man.
The specialist decided to "go public" in September 2001, after a hospital manager appeared in television news reports insisting that lives had not been lost because of overcrowding.
An NHS review in 2004 cleared the hospital trust of responsibility for any deaths in relation to overcrowding.
Dr Mattu has now called for a meeting with Health Secretary Jeremy Hunt and the new NHS chief executive Simon Stevens to discuss the "important lessons" from his case, including ensuring other doctors are not similarly treated for whistle-blowing.
The cardiologist's solicitor, Stephen Moore of Ashfords LLP, said: "The tribunal's findings - that Dr Mattu was a whistle-blower and was unfairly dismissed - completely vindicate him.
"Dr Mattu was a fantastic cardiologist and it was tragic that his pursuit of safety and the highest standards in care led to him being vilified, bullied and harassed out of a job he loved."
The case, he added, "brought to light the appalling way whistle-blowers are still being treated".
Related Internet Links
The BBC is not responsible for the content of external sites.