Warwickshire Police commissioner wants £200 gun licences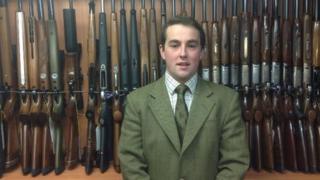 A police chief is calling for the cost of a gun licence to be increased in West Mercia and Warwickshire.
Warwickshire Police and Crime Commissioner (PCC) Ron Ball said taxpayers subsidised gun owners to the tune of £17m every year nationally.
It costs £50 for a five-year licence locally but about £200 for officers to process each application, he said.
Mr Ball said he wanted to increase the fee to £92 initially and later to £200 to cover all administrative costs.
"It just seems to be completely wrong to me," said Mr Ball.
"The prices have not gone up since 2001 and we're currently only recovering approximately a quarter of the costs of processing shotgun and firearms licences and that doesn't seem correct to me."
There are about 35,000 gun certificate holders across Warwickshire and West Mercia, Mr Ball said.
The licence fees are set by government so any change would have to be approved by Westminster.
William Phayer, from A&J Saddlery Country Clothing and Gun Room in Southam, criticised the plan.
He said he did not see why gun holders should have to pay more for an application process that had become worse.
"It used to take one month to process applications but now [since Warwickshire Police and West Mercia Police formed an alliance] it could take up to four," he said.
"We already pay taxes, why are we paying for the police yet again.
"We should be encouraging people to take up these outdoor pursuits but this will do the opposite."