Irish presidential visit: Coventry's links with Ireland?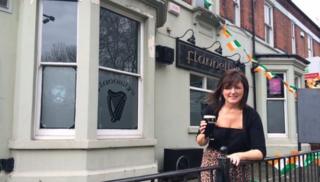 People following the visit of Irish president Michael D Higgins to the UK might have been surprised to learn a visit to Coventry was on the itinerary. So what connection does Ireland have with the West Midlands city?
It could be Coventry's reputation as a city of "peace and reconciliation", or perhaps its official twinning with Cork in 1969.
Maybe it is the fact former Northern Ireland secretary Mo Mowlam attended Coundon Court Comprehensive School, or Coventry's demographic that has prompted the president's visit.
Of the city's 300,000-plus population, Kay Forrest believes around 10% are of Irish descent, vice chairman of the Coventry Irish Society.
"The Irish connection is very strong in Coventry," she said.
"I think there's no better place for him to come. It's a fantastic city."
In 2009, the city council put the figure at 2.3% - higher than the average of 1% for the rest of the country.
An influx of Irish people descended on Coventry in the 1940s, 50s and 60s to take advantage of jobs in industry and manufacturing.
Not only were big companies like Jaguar, Standard-Triumph, and Massey Ferguson offering opportunities for people out of work, but smaller firms that made the parts for those firms were taking on people too.
'Go out and party'
Among those who came to Coventry in the 1950s to work in construction was father-of-two Padraig Murray.
Now in his late 70s, he is one of small number of people in the city who still speaks Irish Gaelic.
His daughter Maggie, who teaches Irish dancing and puts on Irish shows at the Belgrade Theatre, said there were similarities between people from Ireland and the West Midlands.
"The people in Coventry are friendly and warm," said the 45-year-old, of Browns Lane.
"They are brought up as community people. The culture is also the same.
"People like to go out and party. There is a love of music. They like to have fun."
Like Mr Murray, Liz Flannelly's parents Ted and Maureen arrived in the city in the 1950s.
Mr Flannelly opened The Five Ways pub and became one of the youngest licensees in Coventry.
Liz has run her own pub, Flannellys, for the past 13 years where she serves Irish stew on a Monday and shows Gaelic football matches on TV.
'Greatest dancer'
She said about 90% of the customers who visit the Holyhead Road pub are Irish.
"I am proud of my Irish past," she said.
"My parents came here to find work and they worked hard."
She said while there was still a strong Irish community in Coventry it was not as strong as it used to be.
"Many of the Irish people in Coventry now are second generation," she said.
The president was expected to tour the cathedral as well as visit the ruins of the old cathedral.
BBC Coventry and Warwickshire's Bob Brolly, who has presented an Irish music show for the past 20 years, said Coventry Cathedral would have been a big factor persuading the president to include Coventry in his itinerary.
He said the Irish community in Coventry was not as big as it used to be but added: "It is still a massive part of the area.
"We have Irish dance championships here. Ciara Sexton, the greatest Irish dancer in the world was brought up here, there are several Irish clubs.
"There is still a vibrant Irish scene."