M6 multiple-vehicle crash closes motorway at Coventry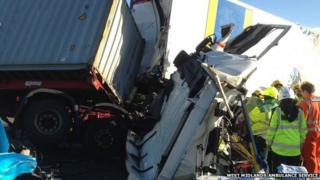 The M6 is to remain closed southbound until Wednesday morning following a crash involving two cars and two lorries, the Highways Agency has said.
Diesel and oil was spilled onto the road near Coventry, between junctions 2 and 3 at about 07:45 BST.
The agency said it had to resurface all three lanes because the carriageway was "unsafe for drivers".
A 25-year-old lorry driver was taken to hospital with fractures to his wrist and pelvis, police said.
Police said one lorry had overturned and gone down an embankment.
Two women who were in the two cars were treated for minor injuries at the scene. The other lorry driver was unhurt, the ambulance service said.
The northbound carriageway was also closed, but has since reopened.
The Highways Agency said the resurfacing was a "large task that involved removing the top layer, relaying and allowing the new surface time to cool."
The road would likely stay closed until at least 02:00 on Wednesday, it said.
It has advised motorists to find an alternative route.
The agency said the crash had forced it to cancel planning maintenance work which would have seen a long stretch of the M40 closed overnight.