Mohammed Iqbal strangled wife Salma Parveen with scarf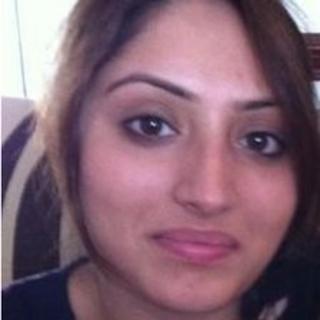 A man who strangled his wife with a scarf has been jailed for a minimum of 15 years.
Mohammed Iqbal's relationship with Salma Parveen, 22, had broken down and she wanted him to leave their home in Stoke in Coventry, police said.
But he killed her "in a fit of temper" in May last year and told her family she had gone to work while she lay dead in their home.
At Stafford Crown Court the 29-year-old was convicted of her murder.
'Pure fabrication'
Police said Iqbal went to London after killing her but had little money and later handed himself in.
Ms Parveen's family paid tribute to their "beautiful" daughter describing her as the "spark" of the family.
"Her life has not only been taken away from her, our lifestyle, spark and bonding of the family has also gone with her.
"Salma was the person we could trust with our eyes closed, the person who was always there for us, the person who we all looked up to."
Sgt Mick Griffiths, from West Midlands Police, said that throughout his trial, Iqbal claimed he did not intend to kill her but suffered a loss of control due to provocation.
"He has changed his defence and alleged in court that Salma attacked him with a knife. This was pure fabrication and the jury saw through these lies," he said.
"Their relationship had broken down and Salma wanted him to leave the family home. Iqbal chose his moment carefully and then struck. Salma had no chance to defend herself and he killed her in a fit of temper."