HS2: The village where everyone's moving out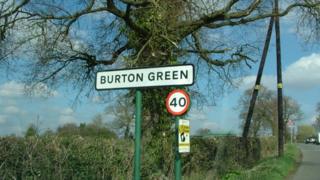 As HS2 announces a new raft of compensation measures, people in one Warwickshire village are already packing up and moving out because of the high-speed rail line.
In the village of Burton Green, they were hoping that spring-time might mean moving time.
But in fact only some villagers are packing up and leaving. For others, it's a waiting game and some suspect a house-sale simply will not be possible.
The reason for the empty houses is simple. HS2 is reportedly coming to this quiet neck of the Warwickshire woods.
"The first we heard about it was when a journalist knocked on our neighbour's door," says Martin Beckett, who has lived in the village with his wife Jane for 11 years.
Like many other residents, they came to Burton Green to retire - for a taste of the quiet life. Sadly, it has not worked out that way.
Villagers have spent four years fighting the plans for HS2. Work on Phase One of the project, from London to Birmingham, is due to start in 2017.
"When we first heard about the scheme, we thought we were going to be the sacrificial lambs for a project that would benefit the country," Mr Beckett says.
"But the more you hear about the scheme, the more you realise it's fundamentally flawed. I can't see that the line is ever going to break even.
"People all over the country, who live nowhere near this thing, are going to be paying for it through their taxes."
Last year, Mr Beckett served a blight notice on the government - a kind of reverse compulsory purchase order which, if accepted by the government, means they will buy a resident's home at its "unblighted" value. On 21 December, he heard had been successful.
"We thought we could finally see light at the end of the tunnel, pardon the pun," he says. Sadly, since then, the bureaucratic cogs have run slower. The couple have found a house they would like to move to but they are still waiting for a valuation of their own home by HS2.
"We have found a place to move to that we would not like to lose," he says. "It's not that we are desperate to leave the village. But we have accepted Burton Green is not going to be our home.
"It's not just about a railway line," Mr Beckett adds. "It's about the disruption and stress. Our neighbours are in their 80s. They could do without this. And I feel very sorry for those who are left behind. The ones who can't move or don't want to because this is home."
On Mr Beckett's street and around the corner in Cromwell Lane there are at least seven households that have served blight notices - six of which have been successful. A further four people are moving under what is known as the "exceptional hardship scheme".
The houses are unlikely to stand empty. HS2 says those close to the line are likely to be rented out by the government although three homes will be demolished.
Mr Beckett takes me on a muddy walk, down a grass embankment and on to the village's greenway - a former railway line from Kenilworth to Berkswell.
A canopy of trees flutter in the sunlight above our heads as the route swells with cyclists and and a 30-strong group of ramblers walk past me.
However, a section of the line is set to be turned back into a railway line again when HS2 is built.
"If this was 2027, we would be standing on two lines of track, with maybe a train in each direction every few minutes," says Mr Beckett. "They are planning to run all of the trains from Manchester, Leeds and Birmingham down to London along this line.
"Warwickshire is being treated as if it's not a particularly attractive part of the country, so it's fine to run a railway line through it. It's not an area of outstanding natural beauty or a national park, like the Cotswolds or the Peak District. But to the people who live here, it's home. And a field is a field and a footpath is a footpath."
As we make our way back into the village, Mr Beckett shows me the village hall - one of several buildings in the village which he says will not survive HS2.
I run into Terry Heyes who is out walking his two spaniels. He lives 500m away from the proposed route - too far, at present, to get compensation.
"I've got no plans to move," he said. "What do you do? If you're already blighted, you're already blighted.
"What is a rural community is rapidly going to become an industrial wasteland. I think the train is a white elephant - a vast, indecent waste of money at a time we can't afford it."
His neighbour Dave Rayney has had a blight notice accepted after living in the village for 27 years and is now looking for somewhere to live. "We never expected to move," he says. "I'm retired now and we thought we'd stay here forever and a day."
Some of the residents would like a deep-bored tunnel, which would pass under their village and save them from the brunt of the construction.
However HS2 says a deep tunnel would have "only limited environmental improvement" and "would result in a significant increase in construction costs".
Rona Taylor is the chairman of the residents' association which has been fighting the plans for the rail link.
She lives on Cromwell Lane, the main street through the village, which will be bisected by the tracks.
"If they were drawing a line through the village to get the most impact, they couldn't have been more successful," she says. "It's going right through the heart of the village.
"It's a vibrant community. We are articulate, we work together and we are not being listened to. People round here are worn down."
She takes me down the road to meet Betty Owen, who is 91, and has lived in an alms cottage for 20 years.
Two houses next door to Mr's Owen's cottage are set to be demolished because of their proximity to the tracks. She is not sure whether hers will be spared.
"Presumably we will have to move," she says. "I'm very upset about it and about the fall of Burton Green. They don't consider ordinary people, do they? But I'm 91 so maybe it won't affect me."