Far Gosford Street: Council loan 'will complete restoration'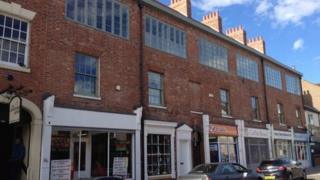 A council has given developers a £1.36m loan for a city heritage project.
Work on the second phase of restoring Coventry's historic Far Gosford Street was due to start in early 2014.
However, Complex Development Projects (CDP), which is overseeing the work, said it had struggled to find finance for the scheme.
The street has 14 Grade-II listed buildings, including a number with medieval timber frames.
'A life-saver'
The street has already been partially restored in a £2.7m scheme that was funded by the Heritage Lottery Fund and European grants.
Ian Harrabin, managing director of CDP, said partial funding for the second phase - which will cost £3.6m - had been secured from the European Regional Development Fund, but it depended on the project being finished by June 2015.
"We hadn't been able to get bank funding for the project so the council's funding was a life-saver," he said.
"It allows us to get cracking this summer."
The council hopes that restoring the rest of the street will help to turn it into a "bohemian quarter for the city".
Coun Lynette Kelly denied the council was directing money away from services, or that the loan was a risk.
"We set up a fund specifically for loaning out money to companies who can't get finance from banks for projects we think are really sensible," she said.
"A few years ago they would easily have been able to get the money for the banks.
"This is a project we know will bring in business rates for the council and we think it is something that really needs to happen."