Royal Fusiliers honoured with Freedom of Warwickshire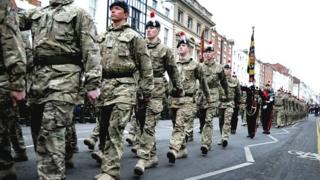 Members of the Royal Regiment of Fusiliers have been granted the Freedom of Warwickshire.
About 200 members of the 2nd Battalion will march through Warwick on 6 June to officially receive the honour.
The battalion, which until recently was on stand-by in Cyprus as reservists for Afghanistan, has been in existence since the 17th Century.
It is due to be merged with the 1st Battalion later this year as part of army cuts.
Lt Col Jim Taylor, who will lead the parade, was made an MBE for his outstanding service in Afghanistan in 2008 and awarded the Queen's Commendation for valuable service in Iraq in 2003.
He was also the Commanding Officer for the late Lee Rigby and gave the eulogy at last year's funeral for the 2nd Battalion drummer, describing him as a "true warrior".
Izzi Seccombe, leader of Warwickshire County Council, said: "Granting the Freedom of Entry is the county council's message of loyal support to the regiment.
"We are very proud of the work they do in challenging circumstances."
The infantry regiment was established in 1674 when Prince William of Orange asked for British troops to serve in Holland in the face of threats from the French.
Formerly known as the Royal Warwickshire Regiment, one of its most famous sons was Field Marshal Montgomery who joined as an officer in 1908.