Coventry Cathedral: Work starts on bombed ruins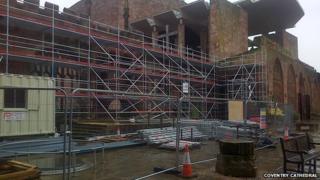 Work to stabilise the walls of the former Coventry Cathedral - which has been a ruin since it was bombed during World War Two - is set to start today.
The £132,000 project will see plant growth removed from the walls, as well as the replacement of concrete used to waterproof the ruins in the 1950s.
The work is being paid for by the World Monuments Fund (WMF) and ChurchCare, which maintains buildings for the Church of England.
The cathedral was bombed in 1940.
The work is expected to take 16 weeks to complete.
A cathedral representative said the walls were never meant to be external-facing, so required extensive maintenance.
"Conserving the ruins for generations to come is expensive and we are grateful to WMF and ChurchCare for funding this vital work," said the Dean, the Very Reverend John Witcombe.