Coventry Transport Museum unveils £8.5m revamp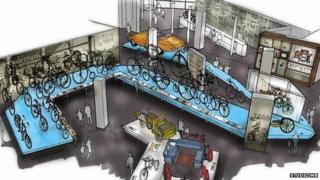 Plans for an £8.5m redevelopment of Coventry Transport Museum have been unveiled.
The year-long project, beginning on 31 March, will see 12 of the museum's galleries undergo "major makeovers," a museum spokesman said.
Under the plans, the nearby Grade I-listed 12th Century Old Grammar School will also be restored for use as an exhibition, education and events space.
The museum will remain open while most of the work is carried out.
Exhibition galleries would be "significantly" upgraded and new "community engagement spaces" created, the museum said. A new entrance is also planned.
'Proud heritage'
Gary Hall, chief executive of Culture Coventry, which runs the museum, said: "We have been working on plans for this project for over six years now, so it is brilliant to know that work is finally getting started.
"We will have world-class visitor attractions that will bring people from far and wide to find out about Coventry's proud motoring heritage."
He said parts of the museum would be closed off at different times as the work progressed, with "a small number of occasions" when the museum would need to close completely.
The museum, which opened in 1980, includes the Thrust 2 car, in which Richard Noble set a land speed record in 1983, and the vehicle that set the current record, the Thrust SSC.
Mark Jarvis, trustee of the Old Grammar School, said it was a "milestone day" for the building.
He added: "For over 25 years now I have been working with the other trustees to find a sustainable future for the Old Grammar School that would enable the young people of Coventry to enjoy it again as they have for centuries before.
"We look forward to seeing the first people through the doors of a revitalised building."
The redevelopment is being partly funded by grants from the Heritage Lottery Fund and the European Regional Development Fund.