'Underfunded' Warwickshire schools to share £13m extra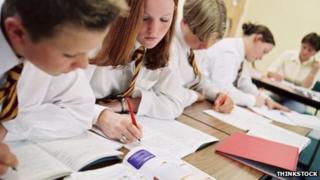 'Underfunded' schools in Warwickshire are to receive an extra £13m from the government in 2015-16.
Councillor Heather Timms, from Warwickshire County Council, said the money was "much needed".
The settlement is part of £350m identified by the government for 62 local authorities judged to have been underfunded in the past.
Marcus Jones, MP for Nuneaton, said school funding in Nuneaton and Bedworth will increase by £118 per pupil.
The Conservative said the current system was "unfair".
"It is a postcode lottery that results in pupils attracting very different levels of funding without good reason," he said.
Ms Timms said further details "about the precise nature of the investment" were "eagerly awaited".
The county council has not released information about how many Warwickshire schools will share the extra £13m.
Schools Minister David Laws said the money would ensure funding is "fairer" in the future.
National Association of Head Teachers general secretary Russell Hobby said it was a "a small step towards a fair national funding formula".