Coventry University to take over council headquarters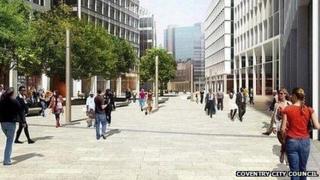 Coventry University is to take over the site of the city council's headquarters when the authority moves out in 2017.
Four civic centres between Little Park Street and Much Park Street will be vacated and demolished when the council moves to its new £40m base.
The University said it wanted to extend its technology park and it would spend the next 12 months drawing up plans for the redevelopment of the area.
No price had yet been placed on the sale of buildings, the council said.
The authority is due to move to its new headquarters at Coventry railway station by 2017 as part of the £59m Friargate business district scheme.
Council leader Ann Lucas said: "We want to ensure that our move allows a similarly forward-thinking redevelopment of our existing site."
Deputy Vice Chancellor of Coventry University, David Soutter, said: "We can certainly see potential in creating suitable accommodation for small and high-tech companies which will either grow from within the University, or will be attracted to the site."