Flooded Coventry residents moved after water pipe cut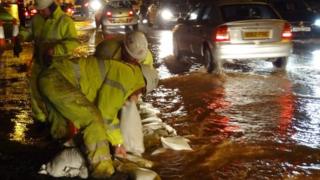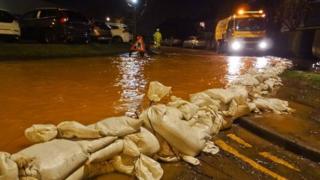 Homes have been flooded and residents moved out after a major water pipe was damaged during work in Coventry.
Maisonettes in Sunbury Road on the Stonehouse Estate were affected.
Severn Trent Water said it believed a contractor cut through a mains water pipe accidentally during works on Wednesday evening.
Resident Lynda Reece said: "It was a brown sea on the road and like a brown river running down the gardens, up to my shins. It was tidal almost.
'Absolutely saturated'
"All the water seemed to come down into our maisonette," she added. "I was in the back garden and I suddenly saw this big wave of brown water coming down. It was coming in waves, thick brown water.
"I didn't think a leak could cause that much water."
Ms Reece and residents from three other flooded homes were moved to a hotel for the night.
She said: "Our neighbour is 90, her house is absolutely saturated, completely through the two ground-floor maisonettes, and she's carpeted throughout."
Sarah McArthur, of Severn Trent Water, said: "The damaged pipe is large - more than half a metre in size."
She said the water supply had been shut off and repairs would be carried out later.
"As the damaged pipe is buried more than six metres beneath the ground, this may take some time," she added.