Coventry 20mph blanket speed limit considered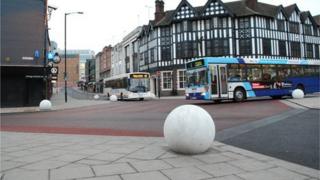 A 20mph speed limit for the whole of Coventry is being considered by councillors to improve road safety.
A task force has recommended the council initially focuses on roads near schools and accident hotspots.
The area within Coventry's ring road was made a 20mph zone in 2012, when traffic-calming measures such as widened pavements and narrowed carriageways were brought in.
But critics have said the plans would not make roads safer.
Rachel Lancaster, cabinet member for public services, said the Labour-controlled council was responding to petitions it had received over road safety concerns.
'Timed limits'
Measures taken to slow traffic in the city centre had "drastically reduced the amount of accidents... but also made the traffic more free flowing," she said.
"It's about looking at how people use the roads, making them more aware and more considerate when they're driving.
"Money is an issue, but if it goes towards making the city a safer and more pleasant place to drive... it has got to be a good thing," she said.
Nigel Humphries, a spokesman for the Alliance of British Drivers (ABD), said the plans would not make people safer, as blanket speed limits caused drivers to speed up on some other ections of road.
"Speed limits should be set according to the merits of each individual road," he said.
The ABD is in favour of "timed 20mph limits" for times of day when children are arriving and leaving school.
But James Avery, from the "20's Plenty Campaign", said traffic should always be restricted to 20mph in residential areas.
"Coventry would just be following in the footsteps of numerous other cities around the UK from Bristol to York... that have taken the measure that provides numerous other benefits as well as just safety."
Mr Avery said each road should be considered on its merits, but major traffic thoroughfares including the A45 and A46 would not be affected.
The task force recommendations will be sent to the council's scrutiny board on Wednesday.