Brandon Stadium, home of Coventry Bees, 'has been sold'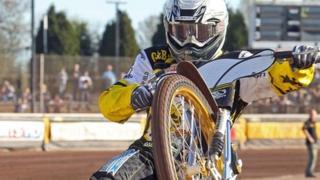 A stadium which hosts speedway and greyhound racing near Coventry has been sold, the BBC understands.
There had been rumours for months Brandon Stadium in Rugby Road, Brandon, was up for sale.
It is not clear who has bought it, but Coventry City Football Club chairman Tim Fisher has said it was not them.
Mick Horton, owner of the Coventry Bees speedway team, said he hoped they would be able to stay.
"Obviously, we want to continue racing at Brandon but until we have a meeting with the new landlord it's about whether they want us to be there and what sort of agreement we can come to," he told BBC Coventry and Warwickshire.
"If we can't then we have no other option but to look elsewhere."