Coventry City Ricoh Arena loan: Date set for judicial review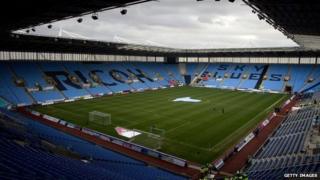 A date has been set for a judicial review of a £14m loan given to the operators of Coventry's Ricoh Arena by the city council.
The council took out a loan in January so operators Arena Coventry Limited (ACL) could pay off bank debts.
Coventry City played at the arena until this summer but moved amid a rent row.
The club's then owners Sisu called for the review, which is listed for 10 June at the High Court in London.
Sisu claimed the loan was an unlawful use of public funds, but the council said it was happy it had a "robust defence".
Coventry City have been playing home games 34 miles away at Northampton Town's Sixfields this season following the row with ACL over unpaid rent.