Library book returned in Rugby after 63 years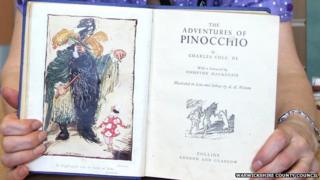 A children's book borrowed from a library 63 years ago has been returned during an eight-day fines amnesty.
The book, The Adventures Of Pinocchio, about a wooden puppet whose nose would grow every time he was dishonest, had a return date of New Year's Eve 1950.
Staff at Rugby Library, in Warwickshire, were handed the book last week.
Librarian Joanna Grindle said: "During my 34 years as a librarian I have never known a book to be that overdue."
Ms Grindle added: "It is amazing to think how much the library has changed since the book was taken out in 1950.
"Of course, I'm pleased to say we have plenty of other Pinocchio books in our children's section so I don't think anyone missed out.
"Although our children's stock is refreshed on a more regular basis we will definitely keep the book safely at Rugby Library - after all it has a wonderful story of its own to tell."
If the book been been returned after the amnesty ended, the unnamed library user would have faced a penalty of £5.22, which is the council's cap for late returns.
However, if the cap were not in place, based on the council's current charges of 18p per day, the user would have faced paying more than £4,000.
Councillor Colin Hayfield from Warwickshire County Council said: "We are pleased that after all this time the borrower felt they could return the book.
"We always wanted to use the fines amnesty to welcome people back who haven't visited us for a while and we hope the borrower is enjoying our services again."