Drapers' Hall to be given to charity for music centre plan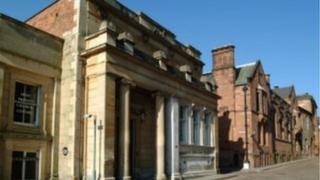 A charity is to take over the running of a historic hall in Coventry to turn it into a music centre.
Drapers' Hall, which was built in 1832, is currently owned by the city council. It has previously been a magistrates' court and an air raid shelter.
A council report has recommended that the authority transfers the building to the Higgs Trust charity for free.
The charity wants to restore the hall and put in practice rooms, recording studios and a sheet music library.
It said the restoration was reliant upon the council giving it the building on a long-term lease at no cost to enable fundraising.
'Alive with music'
It said it would know the total cost of the project once it had done a feasibility study but said it would be "a few million pounds".
Cabinet Member for Business, Lynette Kelly, said: "It will only have a secure future if it's used and I can't think of a better use than for it to be alive with music - its high ceilings are perfect for this."
A final decision on whether the hall should be given away will be made by the council cabinet at a meeting on Monday.
Drapers' Hall was built by the Coventry Drapers' Company, and used by its members for dining and entertaining until the 1950s.
The basement at the hall was used as an air raid shelter for 200 people during World War II.
It has stood empty for more than 20 years, the council said.