MP Marcus Jones calls for more protection for referees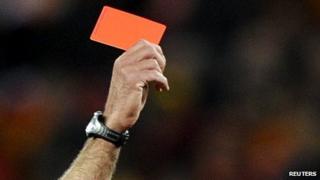 An MP has called for more protection for amateur football referees following a spate of violence from players.
Nuneaton MP Marcus Jones said police needed to apply "the same level of seriousness" to attacks during games that assaults received elsewhere.
Mr Jones' comments follow a Nuneaton and District Sunday League (NDSFL) player receiving a five-year ban for punching a referee in the face.
Mr Jones is to raise the issue with Home Secretary Theresa May.
'Completely unacceptable'
In November, a group of NDSFL referees refused to officiate at games in protest at the violence they faced from players.
In September referee Craig Ward needed hospital treatment after being punched in the face four times by a player in Bedworth.
Mr Jones, a Conservative, said another referee in the league had also been "badly assaulted" by a player.
He said: "Verbal abuse and physical attacks on referees at any level of the game is completely unacceptable.
"Because those incidents take place on the pitch, the authorities do not apply the same gravity to them as they would if they happened elsewhere."
Sports minister Helen Grant said football should be safe and she supported giving officials "the full protection of the law".