Work starts on 'exceptional' Beauchamp Chapel in Warwick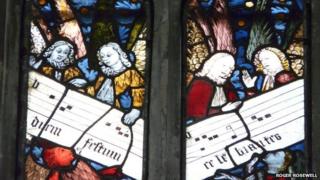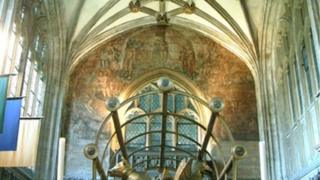 Work is set to start on the restoration of a 15th Century chapel, described by English Heritage as being "of exceptional interest".
Fundraisers have spent two years raising £1m to restore the Beauchamp Chapel in the Grade I listed Collegiate Church of St Mary, in Warwick.
The chapel contains the tomb of Richard Beauchamp, Earl of Warwick, father-in-law of the notorious "kingmaker".
The church said the work would take "at least" two years to complete.
'Significant and important'
The work, which will begin in March, is being funded by a number of donors, including English Heritage, which gave £324,000 and the Heritage Lottery, which gave £300,000.
The final sum of £40,000 from the National Churches Trust, was received in December.
Felicity Bostock, parish administrator, said it had been, "a nice Christmas present".
She said the work would be the first "major restoration" the church had undergone in recent years.
"The weather has taken its toll on the building so the first phase will involve us working on the pinnacles on the buttresses and restoring and replacing stones that have become worn," she said.
The chapel contains the ornate bronze effigy of Richard Beauchamp, which was borrowed by the Victoria and Albert Museum for its 2004 Gothic Art exhibition.
Its four windows contain stained glass which dates from the 1400s and depicts musicians singing from sheet music which is still sung in the church.
The church said the windows were considered to be among the oldest of their kind in Europe.
The work on the chapel will take place in three phases, with the restoration of the walls and stained glass windows in the south and east sides being prioritised, before work begins on the roof.
The project forms part of an ongoing restoration programme on the church, which attracts 35,000 visitors each year.
Alison Giles, campaign director, said the grants which were an "endorsement of the significance of the building and urgency of the repair needs".
An English Heritage representative said the building contained "significant and important features" and had been given a maximum five star rating by journalist and National Trust Chairman Simon Jenkins in his book England's Thousand Best Churches.