London 2012 Olympic torch firm lands £8m deals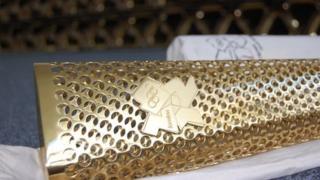 The company that made the London 2012 Olympic torches has announced it has won contracts worth £8m as a result of its involvement with the Games.
Premier Group, based in Exhall near Coventry, said it had taken on 42 new staff as a result of winning jobs with companies including Jaguar Land Rover.
Chairman Denis Meagher said the torch contract had "opened many doors".
"It showed big global firms we could make precision engineered components to a detailed plan," he said.
'Concept car'
Mr Meagher added: "Over the past year we've had more work from abroad, including a contract with Ford in Brazil, which has got the Olympics in 2016.
"We came to their attention because of our work making the torch."
The company, which manufactured 8,000 torches for the Olympics, currently employs 180 people specialising in metalwork and design.
Mr Meagher said it had taken on work building components and prototypes for motoring firms including JLR, Bentley and McClaren.
It had also recently won a contract building electronic boxes for the rail industry, he said.
"The work we're doing is varied. We've just finished making 11,000 bodies for Morgan three-wheelers and we're working on a concept car design for another firm, which is confidential at the moment," he said.