St Lucia murder: Roger Pratt was 'bludgeoned and drowned'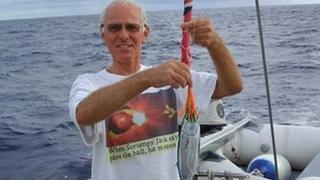 A British man who was murdered off the Caribbean island of St Lucia was bludgeoned and drowned, a post-mortem examination has shown.
Roger Pratt, 62, from Warwickshire, was killed and his wife Margaret injured when armed men boarded their yacht off the town of Vieux Fort on Friday.
St Lucia Police said tests had shown Mr Pratt died from "asphyxia secondary to blunt force trauma".
Detectives are questioning three men arrested over his death.
Police spokeswoman Anel Innocent said the force was not looking for anybody else in connection with the murder and that they may apply to magistrates for more time to interview the men.
Mr Pratt, a retired engineer, and his wife, from Moreton Paddox near Stratford-upon-Avon, had been on a round-the-world voyage since June.
'Considerable kindness'
Officers were called to reports of a robbery on their yacht, the Magnetic Attraction, while it was moored off the island's south coast at about midnight on Friday.
The couple had been celebrating Mrs Pratt's birthday when the vessel was boarded.
Miss Innocent said the men had attacked the pair before fleeing and that it was believed Mr Pratt had died while trying to defend his wife.
Mrs Pratt, who was treated for injuries sustained in the attack, has since been released from hospital.
She said that she has been touched by people's kindness following Mr Pratt's murder.
"We've been here almost two and a half weeks. We've enjoyed our time in St Lucia and not felt unsafe until those final tragic minutes," she said.
"We have had considerable kindness from very many people and that kindness is continuing during the period of the homicide investigations."