Nuneaton disorder: Six jailed for football violence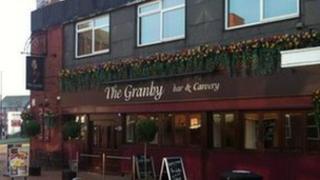 Six Nuneaton Town supporters have been jailed for their part in a violent clash with Lincoln City fans.
The men were handed sentences of between 18 weeks and 18 months at Warwick Crown Court for violent disorder offences.
They had admitted being involved in a clash in Nuneaton town centre last March ahead of the Conference match between the two clubs.
More than 80 people were arrested after the disturbances.
Ryan Palmer, 38, of New Town Road, Bedworth, was jailed for 15 months for violent disorder, while Nicholas Ginnelly, 38, also of New Town Road, received 18 months.
Jack Williamson, 23, of Chancery Lane, Nuneaton, was jailed for 11 months, while Andrew Gadsby, 25, of Higham Lane, Nuneaton, was imprisoned for six months.
Jamie Cheshire, 22, of Meadow Street, Nuneaton, was sentenced to six months in prison and Jack Paul, 18, of Morwood Crescent, Nuneaton, was given 18 weeks' detention.
On Friday, nine Nuneaton fans were handed sentences of between six and 15 months for disorder charges.
The large number of arrests over the incident meant non-league Nuneaton Town had the sixth highest number of fans arrested of all English clubs over the course of the 2012-13 season, despite the number of people attending matches being lower than for the 92 clubs in the Premier League and Football League.