Nuneaton disorder: Nine jailed for football violence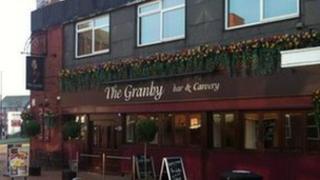 Nine Nuneaton Town supporters have been jailed for their part in a violent clash with Lincoln City fans.
The rival groups clashed in Nuneaton town centre in March ahead of a match between the two sides.
More than 80 people were arrested after disturbances broke out in several pubs.
The nine defendants were handed sentences of between six and 15 months after pleading guilty to disorder charges.
They were jailed in a series of hearings at Warwick Crown Court by judge Alan Parker.
Laurie Spencer, 32, of Aldershot, was jailed for 15 months for his part in the violence, and handed a further six-month consecutive sentence for an earlier affray.
Andrew Gunn, 24, of Malvern Avenue, Nuneaton, and Dean Shannon, 26, of Monmouth Gardens, Nuneaton, were jailed for 15 months.
Michael Phillips, 34, of Ramsden Avenue, Nuneaton, and Luke Beers, 22, of Ashwood Road, Nuneaton, were both jailed for 15 months at a later hearing.
Stephen Dunn, 42, of Red Deeps, Nuneaton, was jailed for 12 months, Stuart Hall, 41, of Etone Court, Trent Road, Nuneaton, was jailed for nine months while Adam Rogers, 43, of St Nicholas Street, Nuneaton, was jailed for six months.
Adam Smith, 18, of Dorlecote Court, Nuneaton, was sentenced to 10 months' detention.