Ricoh saga: Nikki Sinclaire calls on Coventry council leader to resign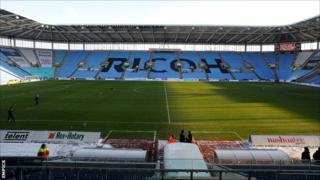 West Midlands MEP Nikki Sinclaire has called for the resignation of Coventry City Council's leader for "failing to get to grips" with the Ricoh saga.
Councillor Ann Lucas said on Wednesday offers for the Ricoh's freehold would be considered but said the buyer would need to inherit the club's debt too.
But Ms Sinclaire said the authority would get an independent valuation and make it public if it was serious.
Councillor Lucas said Ms Sinclaire was entitled to her opinion.
Calling for her resignation, Ms Sinclaire said: "She is failing to get to grips with the Coventry City Football club saga.
"It's not just a football club question, it's for the whole economy."
Ms Sinclaire said she would support the Ricoh's sale in principle.
"I don't think more tax payers' money should be wasted on it," she added.
"If that's the only viable option - they should sell it."
Councillor Lucas said on Wednesday the city council would listen to "reasonable and sensible offers" for the freehold.
But she stressed the site, which is owned by both the council and the Alan Edward Higgs Charity, would not be sold "unencumbered".
She also said it was time to consider a future for the Ricoh without a football team.
Responding to calls for her resignation, Councillor Lucas said: "Ms Sinclaire is entitled to her opinion, I don't make anything of it."
The Ricoh Arena had been the Sky Blues' base since 2005.
But the team moved to Northampton Town's Sixfields Stadium after a rent row with Arena Coventry Ltd, which manages the Ricoh Arena on behalf of Coventry City Council and the Alan Edward Higgs Charity.
Speculation has been growing the club has been looking to build a new stadium in the Nuneaton and Bedworth Borough Council area.