Warwickshire flood warnings downgraded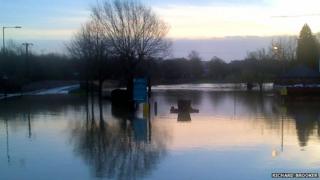 Flood warnings for Warwickshire have been downgraded after the weather was forecasted to improve over the weekend.
Paths and car parks had been flooded along stretches of the River Stour.
Shipston, Tredington, Halford, Clifford Chambers, Ailstone, Alderminster, Preston-on-Stour and Newbold all saw flood warnings earlier in the week, but have since seen river levels drop.
The Environment Agency said generally the situation seemed to be improving across the West Midlands.
The Met Office said only a few showers were expected across Coventry and Warwickshire over the weekend.
The north west of England and north Wales are expected to face the worst of the gales and rain.
Speed restrictions disrupted Virgin Trains services through Coventry and Warwickshire throughout much of Friday, put in place by Network Rail due to bad weather.