Warwickshire villages on flood alert as storms continue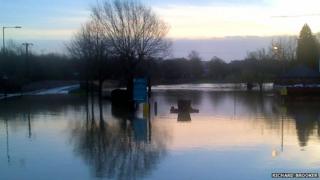 Eight villages in Warwickshire were issued with flood warnings as the River Stour rose on Tuesday as heavy rain continued to fall across the county.
The flood warnings were issued for Shipston, Tredington, Halford, Clifford Chambers, Ailstone, Alderminster, Preston-on-Stour and Newbold.
The weather also affected rail services between the county and London.
Floods forced Nuneaton and Warwickshire Wildlife Sanctuary to close, where rain leaked through an aviary roof.
The agency also issued a warning for the River Leam at Leamington, including the Mill Gardens area, after 15mm of rain fell in 24 hours.
Earlier flooding on the River Stour covered the Mill Street car park near the B4035, and also forced the road to close.
A spokesman for the Environment Agency said: "Motorists are advised not to drive through water. Two feet of water is enough to float a car".
A spokeswoman for Chiltern Railways, which operates trains between Warwickshire and London, said "flooding and damage to rail infrastructure" in the south of the country were to blame for service delays.