George Eliot Hospital takeover shortlist revealed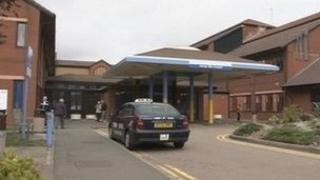 Five organisations have been shortlisted to takeover the running of a Warwickshire hospital.
The NHS Trust Development Authority (NTDA) said in September George Eliot Hospital could be administered by "a non-NHS organisation" or another trust.
It was put in special measures earlier this year because of major failings.
The two trusts and three private firms will now set out more details before further discussions in spring 2014, the George Eliot NHS Trust said.
'Right partner'
Kevin McGee, chief executive, said: "Patients and staff should be reassured by the level of scrutiny that potential partners are being subjected to.
"It is imperative that the right partner is found as patients deserve consistency and the very best services."
The tendering process will accept proposals for two solutions - either an acquisition or a franchise, a spokesman said.
All bids must meet certain minimum requirements and will be evaluated against a common set of financial criteria.
An acquisition would involve another NHS organisation taking over the activities of the hospital, but the trust would remain a part of the NHS, albeit as part of another organisation, the hospital said.
A franchise would see the successful organisation entering into a contract for a set period of time.
The organisations are Care UK Clinical Services Limited, Circle Health Limited, Ramsay Health Care UK, South Warwickshire NHS Foundation Trust and University Hospitals Coventry & Warwickshire NHS Trust.