Work set to start on Far Gosford Street in Coventry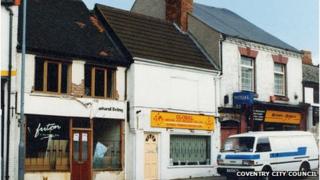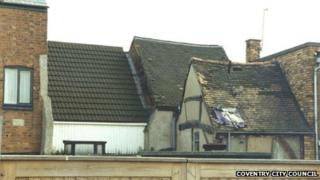 Work to finish the restoration of one of the few Coventry city streets to escape World War Two bombing and post-war redevelopment is expected to start.
Far Gosford Street is described by the council as "one of the city's most important historic streets".
In April, £1m of Heritage Lottery funding was given towards a programme of restoring shop fronts.
The street has 14 Grade-II listed buildings, including a number with medieval timber frames.
'World of fried chicken'
The project is organised by a partnership between Coventry City Council and Complex Development Projects (CDP).
Chris Patrick, the council's conservation and archaeology officer, said the first phase of the scheme in 2012, which cost £2.7m, had seen the repair of two timber-framed buildings and a 19th Century weaver, among other projects.
The council hopes that by restoring the rest of the street, they will be able to turn it into a "bohemian quarter for the city".
Mr Patrick said: "Many of these historic buildings look a bit sad. We want to rescue them from a world of fried chicken and general grot."
He added the final phase would start in early 2014.
Councillor Lynnette Kelly said: "Far Gosford Street is one of Coventry's gems, a great survivor from the past.
"The regeneration that has taken place over the last few years has reversed decades of decline. But it remains a job half-done and this funding allows us to complete the job, tackling buildings that missed out in the first phase."