New Coventry City football stadium will not be in city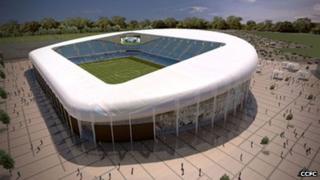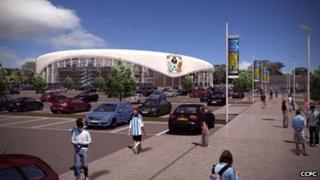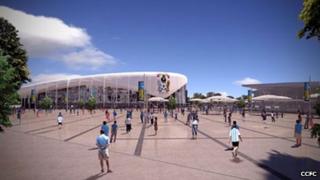 Artists' impressions have been published for a new Coventry City Football Club stadium, but the proposed location is being kept secret.
The club revealed the proposed stadium would not be in the city.
It said it was talking to two local authorities about potential land "close to" Coventry.
The Sky Blues have been playing home games in Northampton since walking out of their former home at the Ricoh arena in a row over rent.
'Extremely close'
The club played at the arena for eight years until this summer, but moved amid an ongoing row with stadium operators Arena Coventry Limited.
Before that, the club was at its Coventry Highfield Road ground for 106 years.
Mark Labovitch, a non-executive director at the club, said negotiations were under way about two sites for a new stadium, but said it would be "suicide commercially" to reveal them.
He said: "They're going to be very, very near to Coventry.
"Coventry has a very tight boundary so you can be extremely close to the city, but outside the jurisdiction of Coventry City Council."
'Unsustainable debt'
The proposed stadium would be built in phases, to initially accommodate 12,500 and to eventually increase to a capacity of 23,000 seats.
Jan Mokrzycki from the Sky Blue Trust said the artists' impressions were "very pretty pictures" but added: "It still doesn't answer the real questions.
"Where will it be built? How long's it all going to take. How much extra debt is the club going to be saddled with to pay for this stadium?
"Where are we going to play in the intervening time?"
Steve Waggott, Coventry City FC's development director, said owning its own ground was "key to the long-term future of the club" and would generate "activity and income".
Mr Labovitch said the Football League was satisfied the club had the funds to build a new stadium.
"The stadium that is saddled with a huge amount of debt that is really unsustainable is the Ricoh," he said.
He said the club wanted to "really get cracking" with the stadium plans and would be asking for design input from fans.