Late-night Virgin train passengers 'can't get off' at Nuneaton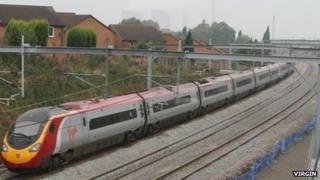 A late-night train from London to Manchester is unable to make a scheduled stop because the operator of one station refuses to keep it open at that time, it has emerged.
Rail campaigners said the situation - which affects the new 22:50 GMT Virgin Trains service - was "a farce".
The Pendolino train gets into Nuneaton, in Warwickshire, every night at 00:39, but the station closes at 23:30.
London Midland, which runs the station, declined to comment.
'A right pickle'
Mark Whitelegg, from the Nuneaton, Bedworth and Hinckley Rail Users' Group, said: "The new service was brought in on 9 December but it became clear Virgin had advertised it without consulting London Midland.
"They now seem to have got themselves into a right pickle.
"People have booked tickets to Nuneaton and they can't get off at the station. Instead Virgin is paying for taxis to get them from Rugby to Nuneaton."
Mr Whitelegg said many other London Midland stations were left open at night and he could not understand why Nuneaton station had to close.
"First of all, Virgin made a hash of introducing the service by offering something they couldn't deliver," he said.
"But now London Midland seem to be very inflexible about providing a solution.
"We're hoping we can meet with them both to sort out this farce."
A spokesperson for Virgin Trains said the service was due to arrive at Nuneaton "significantly later" than the station's current closing time.
He added: "We have had to withdraw this stop. We are looking for solutions to this issue. But, in the meantime, online systems have been amended to remove the stop at Nuneaton."