Bishops Tachbrook solar farm plan recommended for approval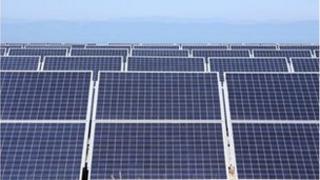 Plans to build a solar farm on land in Warwickshire have been recommended for approval by council planning officers.
Sun Glow Power wants to install more than 16,000 solar panels on farmland off Mallory Road in Bishops Tachbrook.
The firm said it would generate enough power for 1,021 houses in the village each year with a surplus going into the National Grid.
The proposals will go before Warwick District Council on Tuesday. It said it had received six letters of objection.
A council report showed people were concerned about the visual impact of the development and the effect on wildlife.
Sun Glow Power said the 82,000 sq m (880,000 sq ft) farm would be made up of 16,216 dark blue glass panels, each one up to 3m (10ft) high.