Coventry manufacturing to get City Deal funding boost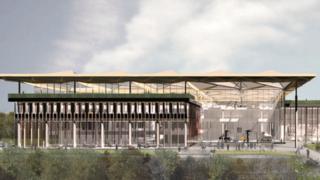 Plans to invest public money in Coventry's manufacturing sector have been welcomed by city leaders as an "early Christmas present".
Ann Lucas, leader of Coventry City Council, said the government's City Deal would be used to support companies looking to expand.
Leaders claimed it could create up to 15,000 new jobs and £90m investment for the area by 2025.
The deal will be officially signed with the government in January.
Ms Lucas said: "We all want the area to be successful.
"Businesses just want to get on with doing the business, making the money and employing more people and that's what this is all about."
She said 450 companies have been singled out to benefit from training, research support and apprenticeships.
She estimated about 8,000 news jobs could be created in Coventry and 7,000 in Warwickshire.
'World class'
Plans for Coventry and Warwickshire include bringing together Chambers of Commerce, UK Trade and Investment, planning and finance advice into one building.
A car test track and research facility at Fen End in Warwickshire will also be expanded, using £559,000 of government money.
Louise Bennett, from the Chamber of Commerce, said: "The more we can grow our business base in Coventry and Warwickshire across the 33,000 businesses that we've got, the more chance we've got of creating those all-important jobs."
In February the government announced Coventry was among 20 cities invited to negotiate a City Deal.
Each city proposed deals relevant to their main business area, with Coventry and Warwickshire focussing on manufacturing and engineering.