Warwickshire stately home targeted by bee thieves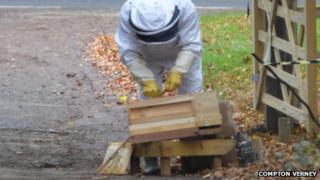 Hives at a stately home have been targeted by bee thieves for the second time within weeks.
They attempted to steal the colony of 10,000, damaging the hives at Compton Verney, Warwickshire, in an attack their keeper described as "devastating".
Last month, another colony and its hive were removed completely.
The latest attempt discovered on Tuesday was thwarted, but the hive was dropped and destroyed.
Gary Webb, the head of landscape and gardens at Compton Verney, said "bee rustling" was becoming more common across the country.
"It is a rapid overnight crime and very difficult to keep an eye on," he added. "This was a very poor - in fact botched - attempt to steal the bees."
Volunteer beekeeper Rod Oates said: "What has happened has been very disturbing for us and the bees.
"Over winter, honey bees cluster around their Queen to maintain a temperature of 35-40°C. As so many of the bees were destroyed in this fumbled attempt to steal the hive and the colony, we are unsure whether the remaining bees will survive the winter. Only time will tell".