Claims West Midlands Fire Service 'is at tipping point'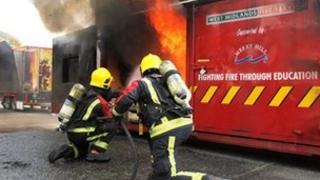 The chair of the West Midlands Fire Authority has said public safety could be at risk as a result of proposed government cuts.
John Edwards said the service was "at tipping point" after making savings of £31m until 2015.
Mr Edwards said he had had "indications" from the government that further service cuts would be imposed between 2015 and 2018.
The government said the spending settlement had not yet been announced.
'Squeezed every penny'
The service has made savings of £16.2m since 2011, including measures such as closing its training academy and freezing recruitment.
Mr Edwards said: "The problem is what happens after 2015/16. We have squeezed every penny we can.
"The government has indicated we will need to do the same again."
Mr Edwards said if that happened, the force would need to close some of its 38 stations.
He added: "The safety of the public is being put at risk."
A department for communities and local government spokesperson said the comments were "pure speculation" as no figures had been announced.
In May, an independent review by Sir Ken Knight, London's former fire commissioner, said the authorities needed to change.