Coventry City move: Review into legality of £14m Ricoh loan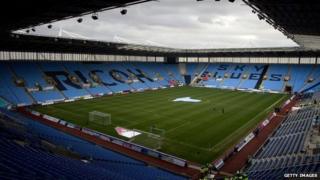 A £14m loan given to the operators of Coventry's Ricoh Arena by the city council is to be examined in a judicial review, the High Court has ruled.
The council took out a loan in January so operators Arena Coventry Limited (ACL) could pay off bank debts.
Coventry City played at the arena until this summer but moved amid a rent row.
The club's then owners Sisu called for the review, branding it an unlawful use of public funds, but the council said it was happy it had a "robust defence".
Coventry City have been playing home games 34 miles away at Northampton Town's Sixfields this season following the row with ACL over unpaid rent.
The move has prompted major protests by fans unhappy at the club leaving its home city. The Sky Blues had played at the Ricoh since 2005, after moving from Highfield Road, their home stadium for the previous 106 years.
'Damaging saga'
In a statement, the club said: "The High Court today ruled that there were good grounds for an investigation at a full judicial review by a High Court judge into the legality of the loan made to ACL and whether the council made that loan for an "improper purpose", namely to force the owners of the club to sell out at an undervalue."
The statement said it would not rule out a return to the Ricoh.
It added: "The judicial review will finally allow all the facts behind this damaging saga to be revealed to fans and taxpayers."
Coventry City Council leader Councillor Ann Lucas said she was "disappointed" the judge had allowed the judicial review to proceed but added: "We are confident we have a robust defence to all the claims... and look forward to the court hearing that will allow us to share this defence publicly."
But she said she was also keen on reaching a compromise.
"I want Coventry City Football Club to play at the Ricoh Arena," she added. "But not on terms that would not justify public scrutiny."
An ACL spokesperson said: "We are aware of the result of the High Court hearing which has allowed the application made by the owners of Coventry City Football Club to progress to a full judicial review. At present we are focussed on running our business as we head into the busy Christmas and New Year period.
"However, we would of course welcome the Sky Blues back to their home stadium and are available to do so at short notice.
"We have an open door policy on discussions to achieve this and will make every effort to do so if called upon."