Nuneaton mail delivery office closed after lorry crash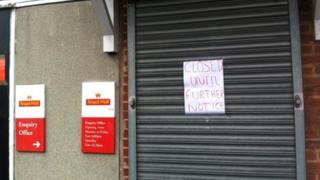 A mail delivery office has been closed after a lorry reversed into the building.
The Nuneaton Royal Mail office on Church Street is shut until further notice and there will be no deliveries in Nuneaton for at least a day.
A spokesperson said "a vehicle reversing into the loading area damaged a small section of the ceiling".
The company is investigating whether the ceiling's asbestos coating could have been disturbed as a result.
Royal Mail has apologised to customers and asked that people do not try to collect parcels.
A statement added: "Clearly this incident is something which we are treating with utmost urgency and our priority is the health and safety of our colleagues and all our customers."
The delivery office is temporarily relocating to the former Parcelforce depot at Ibstock Road in Coventry.