RSM Industries car parts company cuts 150 jobs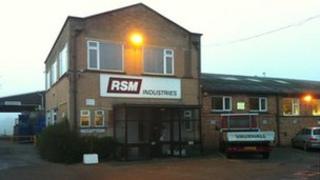 A car parts company is cutting 150 jobs after losing nine contracts to supply seat components to the same firm.
A spokesman for RSM Industries in Exhall, near Coventry, said the company was "shocked" that all its work with Johnson Controls had been cancelled.
He said the work making metal brackets accounted for almost all the firm's business and the cuts would mean the company was left with a staff of 15.
Johnson Controls said RSM had "failed to meet quality standards".
But RSM's managing director Greg Williams said the news had "come as a shock, especially as we've been working with Johnson Controls for 25 years".
"These components are difficult and complex [to make] and my workforce has worked hard to make sure quality control is maintained and deadlines have been met."
'Quality control on track'
He said 95 full-time and 60 contract staff would lose their jobs.
Johnson Controls had nine contracts with RSM to make components for car seats in Jaguars, Nissan and Ford models.
Ulrich Andree, from Johnson Controls, said: "The cancellation of the contracts should not have come as a surprise because we spoke to the company more than once about the quality of work.
"There were certain standards that RSM needed to stick to but they were not met."
But Mr Williams denied that the company had been made aware of problems with their components.
The only correspondence, he said, had been a letter last month informing them of Johnson Controls' decision to withdraw from the contracts.
RSM's workers, he said, had "consistently kept quality control on track".
Mr Williams said he was trying to contact car manufacturers to see if they could provide them directly instead.