What next for Daw Mill Colliery in Warwickshire?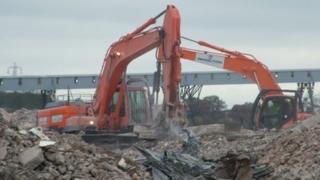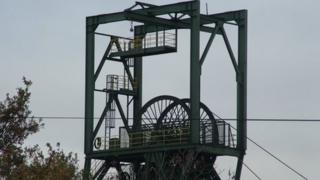 At Daw Mill Colliery, on a hazy autumn afternoon, the air is full of noise and movement.
But the familiar industrial sights and sounds of what was once one of Europe's biggest collieries, have been replaced by the shuffle and grind of excavators, working to demolish the colliery's office and canteen buildings.
Work at the colliery ceased in February, following a devastating fire, leaving 650 miners without a job and Warwickshire - historically one of Britain's foremost mining regions - without a deep mine.
As discussions begin on what to do with the site, former miners say they hope it will, in part, be used as a reminder to future generations of Warwickshire's mining heritage.
"When a mine closes, the impact on a community is devastating," said Ray Sweet, a former engineer who worked down the mines for 38 years.
"Other businesses close as well. The closure of Daw Mill left a big hole in the community."
Mr Sweet now chairs the planning committee on North Warwickshire Borough Council and he hopes to have a big say on the future of the site.
"It will remain an industrial site. It wouldn't lend itself to a residential development and we need to find jobs for the men and women in this area because Daw Mill was a big loss."
The ownership of the site is currently being transferred from the Crown to regeneration company, Harworth Estates.
It said small fires were still burning under the ground and that work had begun to fill in mineshafts to starve the fires of oxygen.
'An iconic sculpture'
Ian Thomson from the firm said its priority was to carry out "a high-quality development that would create jobs".
He said: "We intend to use the infrastructure which already exists there, such as the railhead, to support economic growth and jobs.
"It will be at least 12 months before any work can begin on site because of operational and legal issues."
Local artist and historian Susan Moore is leading a campaign to keep the mine's steel headgear - the erection that stands over the shaft - as a memorial to the colliery.
"It's like an iconic sculpture to me and it needs to be retained," she said.
"It would also be very good to see a heritage centre built which would be dedicated to the history of miners at the site."
Steve Maxey, assistant chief executive of North Warwickshire Borough Council, said the authority was working with Harworth Estates and the coal authority on keeping the steel pithead.
"We have had an assurances that they will retain part of the winding gear and headstocks on site when it is redeveloped," he said.
"We need to take a balanced approach between capturing as much as the heritage as we can and making a viable employment site because no-one wants a monument that is a derelict site for 40 years."