Fusiliers granted freedom of Warwick District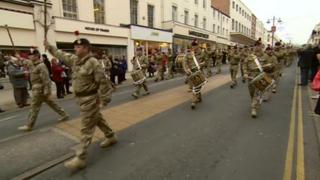 A battalion of fusiliers has become the first regiment to be granted the Freedom of Warwick District.
More than 180 soldiers from 1st Battalion The Royal Regiment of Fusiliers marked their return to Britain with a homecoming parade in Leamington Spa.
Watched by hundreds of onlookers, they marched to the town hall where they received the honour.
The soldiers have been in Helmand for six months, supporting Afghan forces.
Warwick District Council chairman Richard Davies put forward the motion to bestow the honour on the regiment.
He said it was in part to support the regiment's 2nd Battalion, which faces withdrawal as part of army cuts.
"We wanted to send out a clear message that this is a regiment we support and are loyal to," he said.
Having the freedom gives the regiment the right to march in towns and villages in the Warwick district.