Shakespeare 3D light show launched in Stratford-upon-Avon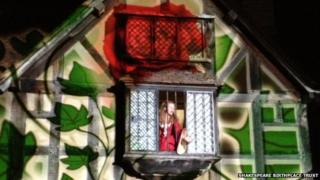 Thousands of people turned out to watch a six-minute 3D light show debut at Shakespeare's birthplace in Stratford-upon-Avon.
Lasers were beamed on to the walls of the house, displaying characters and quotes from the Bard's work.
The event, which runs until 16 December, is accompanied by actors performing extracts from two plays.
Philippa Rawlinson, head of operations, said: "The show mixes live theatre with 3D lights.
"It's an absolute first in the town."
The show, named the Birthplace 3D Lightshow Spectacular, was launched on Thursday at 17:45 GMT by Paralympic rower James Roe and mayor Diane Walden.
It begins with a quill writing a quote from As You Like It across the house and a depiction of Romeo climbing the walls to kiss Juliet.
Shops and businesses in the town matched the county council funding to raise the £60,000 total cost of the display.
Symon Powell, who was on the project team, said the event had attracted interest from other countries.
"There's a TV crew from France here," he said. "It's been a major success and it's definitely something we will look to repeat next year."
Hazel Withall, from Worcestershire, who was watching in the crowd said: "The atmosphere is lovely. It's impressive so many people have turned out."
Another spectator, Sara Misra, came to Stratford from India in 2012. She said: "It's wonderful. I've never seen anything like it before."